By
matthewsstructural18
on March 17th, 2016
Tags:
Commercial Blog
,
Commercial Services
,
commercial underpinning
,
Foundation Repair
,
Remedial services
Matthews Wall Anchor & Waterproofing has been working with the owners and managers of commercial properties, including office buildings, with foundation and structural repair. We have been in business since the 1980s so you can rest assured knowing that the structural integrity of the building will be properly addressed.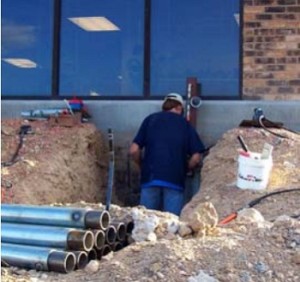 When a commercial building needs foundation and structural repair, it is important to have a company that has years of experience in this type of work. We focus on quality and use only the best products for commercial structural repair. Our products are manufactured by Earth Contact Products (ECP), the very best in the industry. These products will extend the life of the structure and ensure the safety of the building's occupants.
Matthews Wall Anchor & Waterproofing will work with you to carefully preplan the project to address the details of hours of operation, scheduling, safety, traffic control, noise and dust control. Whether it is an office building or industrial commercial building, you can be assured that the work will be done with everyone in mind.
Solutions For Structural Repair in Commercial Buildings
Matthews Wall Anchor & Waterproofing uses steel push piers to level and stabilize commercial structures. These steel push piers are drilled deep into the ground, through unstable soil layers, until they reach a solid soil layer. Then each pier is load tested. After testing, the entire weight of the structure is lifted onto the piers with hydraulic jacks.
Here are a few reasons why you may want to consider commercial underpinning:
The original foundation is not stable or strong enough
Usage of the building has changed
The soil supporting the structure has changed
New construction nearby has required excavation of the soil currently supporting the existing foundation
It is more cost-effective to use underpinning rather than build a new structure
Contact the professionals at Mathews Wall Anchor & Waterproofing today for any of your commercial structural repair needs for your office or commercial building. We will work with you to plan the best time for your repair needs. We have established an outstanding reputation and intend to keep it that way.