By
matthewsstructural18
on December 8th, 2015
Tags:
Commercial Blog
,
Commercial Services
,
commercial underpinning
,
Foundation Repair
,
shoring solutions
Steel Piers for Foundation Repair
The foundation of a commercial structure is the most important part of the structure. The entire weight is sitting on the foundation. When something goes wrong with the foundation, the entire structure will become damaged. Foundation problems occur due to several reasons. Some of these are:
Improper soil preparation when the structure is built – if the structure was not properly graded at the time it was built, it will cause settlement.
Extreme weather conditions – weather that is constantly changing will cause the foundation to shift and move.
Expansive clay soil – expansive soil will heave when wet and contract when dry. This shifting of the soil will cause the foundation to also shift and move.
Trees and shrubs planted too close to the foundation – if trees and shrubs are planted too close to the foundation, the root system will drink up the moisture beneath the foundation causing voids beneath the foundation.
It is important to know the signs in and around the structure that may indicate foundation settlement or foundation failure. Some of the signs to look for are: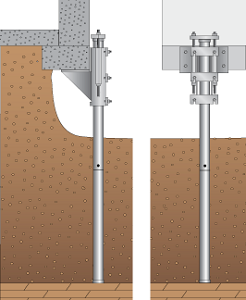 If you see any of these signs of foundation settlement, it is important to contact the professionals at Matthews Wall Anchor & Waterproofing for a free inspection. If we find that you are in need of foundation repair, we use heavy duty steel piers to get your foundation back to its original level and structurally sound again.
Steel Piers
Steel piers are used to lift and level your foundation. These steel piers are driven deep into the ground through the unstable soil layers until they reach a solid soil layer. Each pier is then individually load tested. After load testing, the entire weight of the structure is lifted onto the piers using hydraulic jacks. Your structure will be level and stabilized for years to come.
These steel push piers are manufactured by Earth Contact Products (ECP), the very best in the industry. The features and advantages of these ECP Steel Piers are:
Capacity rating of 75,000-99,000 lbs.
Quickly installs
Minimal site preparation
Integrated manifold lift design
The bracket is pre-engineered and pre-tested
The system handles difficult ground conditions
Installs in limited access areas
Easily load tested to verify the capacity
Designed to transfer the load to the full length of the pier
Cost-effective due to ease of operation and design
25-year manufacturer's warranty
Let Matthews Wall Anchor & Waterproofing inspect your commercial structure and offer you the underpinning foundation repair solution of steel piers. Your structure will be safe and sound for years to come. We have over 25 years of experience providing structural solutions for new and existing commercial structures. If you are in need of commercial foundation repair, contact the professionals at Matthews Wall Anchor & Waterproofing today!