By
matthewsstructural18
on February 12th, 2016
Tags:
Commercial Blog
,
commercial underpinning
,
Foundation Repair
Why We Use ECP 350 Series Piers for Underpinning in PA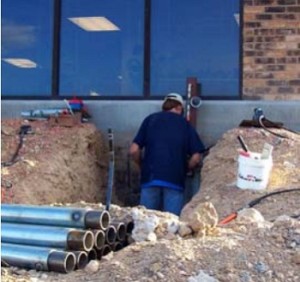 Due to clay soils in Pittsburgh, settlement is a common issue. Expanding clays, soil erosion, weak soils, and drought-like conditions are usually the culprit. Without foundation assessment, the situation can get worse over time causing wall and foundation cracks. One case history involved the Dixie Forest Service Office in Cedar City, UT. ECP 350 steel piers were used to support and stabilize an office building that settled between 1/8 inch and 3-5/8 inches. The settlement was caused by consolidation of fill soil. The Model 350 steel piers used a tubular steel pier that was hydraulically driven deep into the soil until it reached suitable soil and supported the structure.
At Matthews Wall Anchor & Waterproofing, we offer ECP 350 series piers to prevent further damage to your foundation. ECP 350 steel piers are one of the strongest and deepest driving pier systems used for commercial and residential applications. They close cracks in masonry, restore settlement, and support foundations.
Why ECP 350 Series Piers?
We use Earth Contact Products (ECP) because they are the leading manufacturer of underpinning. ECP steel piers are designed in a state-of-the-art facility by skilled welders and engineers.
The ECP 350 steel piers use a two-stage system of driving steel pilings to a secure bedrock. During the installation process, the hydraulic manifold system lifts and supports the structure. Skin friction is not required for support. Each pier is load tested using the maximum weight of the structure.
Benefits of ECP 350 Series Piers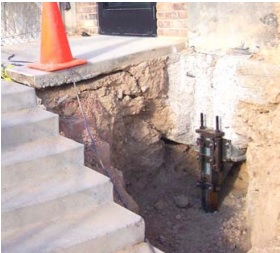 Here are several advantages of using ECP Model 350 series piers for your foundation repair:
Installed with little to no vibration
Portable equipment
Used for hard to reach areas
Offers lifetime support
Field load tested during installation
Installed from interior or exterior of the structure
Made of galvanized steel
Standard 4″ lift
Manufacturer's warranty
Recovers lost elevations
ECP 350 steel piers help support and restore settling commercial buildings. Contact Matthews Wall Anchor & Waterproofing for quality ECP 350 series piers in the Pittsburgh, PA area.