By
matthewsstructural18
on January 7th, 2016
Tags:
Commercial Blog
,
commercial underpinning
,
Foundation Repair
,
shoring solutions
Structural Problems in Commercial Buildings
It is important to have your commercial building level and structurally strong. That is why it is important to know what to look for that may indicate that the foundation of your commercial building may be in need of repair. When you look around the building, look for some of these signs: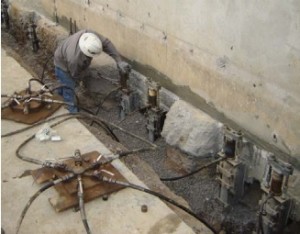 Commercial buildings may have structural problems due to the shifting of the foundation. When the moisture content in the soil beneath the foundation continuously changes, the soil will shift causing the foundation to constantly shift too. If you notice any of the signs of structural damage due to foundation settlement, let the experts at Matthews Wall Anchor & Waterproofing give you a free inspection and offer you the solution to get your commercial building back to its original level and strong again.
Commercial Structural Problem Solutions
Matthews Wall Anchor & Waterproofing has the products and experience to get your commercial building level again. We use steel push piers that are manufactured by Earth Contact Products (ECP), the very best in the industry. These steel push piers are driven deep into the ground through the unstable soil layers until they reach a solid soil layer. Each pier is load tested and after testing, the entire weight of the structure is lifted onto the piers using hydraulic jacks. This will level and stabilize the structure for many years to come.
Some of the benefits of using ECP steel push piers for commercial structure stabilization are:
Quick installation the requires little soil removal
They do not require skin friction for support
Can be installed from the interior or exterior of the structure
Uses quiet, vibration free hydraulic equipment
Piers are 100% load tested to accommodate the working load
Let Matthews Wall Anchor & Waterproofing help you with your commercial foundation stabilization. If the signs of structural damage are ignored, it will be much more costly to build a new commercial building instead of letting us repair your existing building.
We have over 30 years of experience and take pride in the outstanding reputation we have established. When we meet with you, we will let you know exactly what we will do to get your commercial building repaired. It is important to contact us at the first sign of a structural problem. Don't hesitate, contact us today.