Editor Note: This is a blog that was originally written for Matthews Structural Solutions for commercial applications, but we felt there were a lot of good tips that homeowners and other people may find useful, so we decided to share it here, also. Originally posted on December 21, 2017 on Matthews Structural Solutions blog.
Snow Removal Tips
If you haven't already arranged for snow removal it may not be too late. Here are some things to keep in mind, if you do choose to handle your snow removal yourself.
According to the American Academy of Orthopaedic Surgeons, over 16,000 people make emergency room visits every year due to injuries they received while shoveling snow. Not all of the injuries are serious, some are just blisters or small wounds, but a person can end up with severe frostbite, exposure, or heart attacks. These injuries can be prevented if you take a little precaution.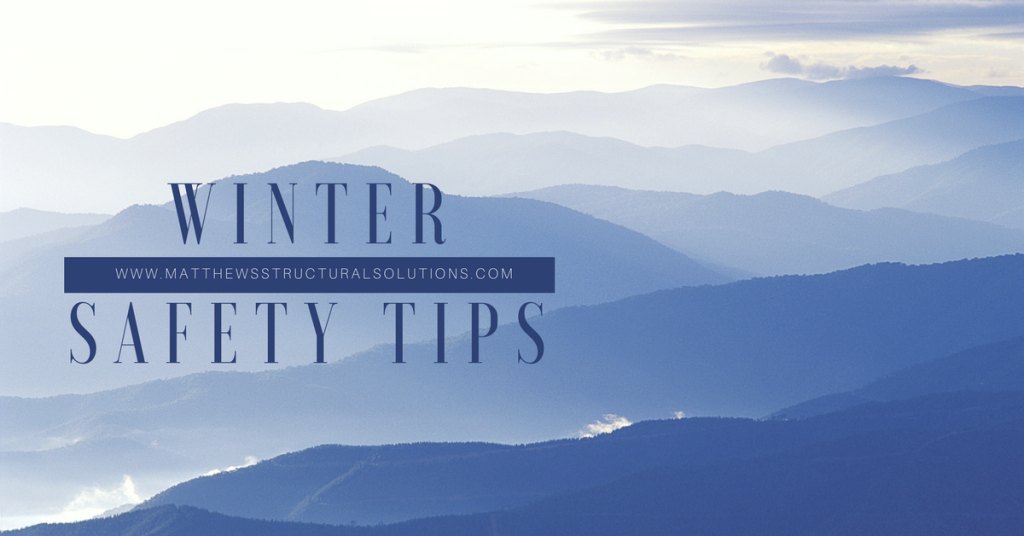 Safety Tips When Clearing Driveways and Sidewalks
It's important that sidewalks, steps, and driveways are kept clear. Trips and falls are the number one cause of injuries at home and in the workplace. However, you need to make sure that you are safe while helping others.
Know your limits. If you have heart problems, mobility issues, or other reasons that you should avoid heavy exertion, then you probably shouldn't shovel or clear ice and snow.
Dress for the weather. You may want to just jump in and get to work on that snowy sidewalk, but you should really dress for the task. Make sure your boots are waterproof and slip-resistant. Dress in layers, so you can take off clothing if you get overheated. Wear a hat, scarf or balaclava to cover your face, and gloves or mittens. It's important that you protect your skin from frostbite. Also, make sure that you drink plenty of water; just because it's not hot out, doesn't mean you won't get dehydrated.
Warm up your muscles. You wouldn't just jump into a strenuous exercise at the gym, nor should you just start shoveling without stretching or doing light exercises to prepare your muscles. Harvard Health Publications states that warming up can help prevent heart attacks and other injuries. Don't overexert yourself, it's not a race. Take breaks and rest your body, maybe even go inside and warm up. IF YOU FEEL PRESSURE OR PAIN IN YOUR CHEST, CALL 911 IMMEDIATELY!
Use the right tools. Don't just grab the first or cheapest shovel you can find. Make sure it fits your level of strength and your body size. If it is too short, you will be hunched over, putting your back muscles at risk of being injured. If the scoop is too big, you won't be able to move the snow. You'll likely be using it a lot, so make sure you are comfortable with it.
Shovel correctly. If you use correct posture and form, you can save yourself from a lot of muscle aches and pains later. Keep your back straight, bend your knees, and squat down with your legs apart. Avoid throwing the snow over your shoulder or to the side. Instead, carry the snow to where you want to place it, with your arms close to your body. This will protect your spine and back muscles. It may seem like it will take longer, but in the long run, you'll be glad you took a few extra seconds to protect your body. If the snow is deep and/or heavy, try to just push it out of the way. If you have to lift it, then just do small portions at a time.
Watch your step. Make sure the surface is dry while you shovel. Slipping on a slippery spot can cause a wide variety of injuries ranging from small to deadly. Put some ice melt down to help rid the surface of ice.
Dangers of Rock Salt
You may have noticed that we said "ice melt" in the previous paragraph, instead of "salt". There's a reason why. Rock salt can harm humans and pets and destroy your property.
Rock salt contains potassium chloride or sodium chloride and when these chemicals come into contact with low temperatures and water or ice, they can reach temperatures up to 175 degrees. In addition to the high temperatures, there are other problems that can occur.
The build-up of salt residue can cause permanent damage to sidewalks, foundation walls, wooden decks, and other concrete surfaces. The concrete can flake or crack from the salt, causing the concrete slabs or walls to weaken.
If you need to use ice melt, try to use something that is safe for the environment and pets while being easy on concrete surfaces.
An Easy Solution to All of This
Do you want the best tip on how to avoid all of these problems? Use Matthews Structural Solutions for your snow removal needs. Our team of snow and ice experts will keep your property clean, clear, and safe. Contact us today to get a free quote and learn more about what we can do for your commercial property this winter.
Does Matthews Wall Anchor Do Large Structural Repairs?
Yes, we are professionals at large structural repairs. We have another company, Matthews Structural Solutions that specializes in just these kinds of projects.
Head over to the Matthews Structural Solutions site to learn more about all we can do with structural repair, civil engineering, and more. We can assist your bigger properties with snow removal, road prepping, commercial retaining walls, and commercial foundation design.
The Matthews companies have all of your foundation and other repair needs covered with our expertise and quality tools and products, regardless if it is commercial or residential.
Choosing The Right Contractor For Foundation Repairs
You've seen the signs around your home and you have made the decision that you need to hire a foundation repair contractor. So, now what? Take some time to do some research and comparison shopping. There are a lot of companies out there that want to separate you from your hard-earned money, but can't or won't put the work into providing you with a quality result.
Matthews Wall Anchor has been dedicated to providing the people of Pennsylvania and the surrounding area the best service and foundation repair solutions for over 30 years. We want you to find the best contractor for your situation, so here are some helpful tips to keep in mind when looking for foundation repair professionals.
Important Things To Ask When Hiring A Contractor
Most respectable foundation repair contracting companies will provide you with a free inspection and estimate. Take advantage of this and have a couple inspectors come out to your property, that way you have a baseline to compare companies with.
Some other things to look for include the following:
Communication
Just like any other relationship, communication is key. You've probably seen the commercials where the contractor tells the homeowners all the things they are going to do wrong before starting the project. While that is used for comedic effect, it is important that you and the contractor are on the same page with expectations. You should discuss timeframes, equipment being used, the amount of disruption to your home life and property.
A good contractor will be able to work with you to determine what you want and need to be done. You should be able to work together to complete the repairs and everyone can walk away satisfied at the end. A contractor worthy of hiring should treat you with respect, integrity, and honesty. Your home is a big investment and the safety of your family should be a number one priority for any home repair contractor.
Experience
When hiring a foundation repair contractor, make sure they have the experience and knowledge to get the job done effectively and efficiently. It takes certain experience and skills to perform foundation repairs. Not every handyman has the abilities and tools to repair bowed walls, uneven foundations, cracks in floors or walls, or more.
When talking with the contractor, ask them about case studies that are similar to the work you are having done. In addition, you can ask for referrals and affiliations from the contracting company. Make sure their skills match up with the work that needs to be performed.
Some things to ask when you talk to a reference:
Did the contractor complete the work as promised and on budget?
Were they reliable?
Did they communicate well?
Would you hire them again? If so, why? If not, WHY?
Products and Other Resources
If you don't have the right tools, it doesn't really matter how skilled you are. When vetting your contractor company, ask what products they use. For example, Earth Contact Products and Rhino Carbon Fiber are recognized throughout the industry for their quality and durability.
In addition to the tools that are used, make sure that the company has the staff to complete the work. We know of a couple that hired a roofing company for their two-story home. Every morning, one teenaged boy was dropped off to work on the house. This isn't safe, and it took the poor kid a month to shingle the house. A team of workers should be on-hand to make sure the job is completed quickly and safely.
If permits are needed, ensure that the contractor has the resources to get this done in a timely manner. It's frustrating to wait on a project because of missing or late paperwork.
Insurance and Financial Responsibility
If a company has been around a long time and is financially responsible, you will have a better chance of them taking care of your budget fairly. There is always a chance that something occurs that can change a quote, but trustworthy contractors will make sure that their inspections uncover any problems to ensure you have an accurate estimate.
You should also make sure that they have insurance to cover their employees and other risks that occur. An honest contractor will want to make sure that they are protected and will be able to complete the repairs as promised. Also, when signing a contract, make sure there is a limit on the time and money that will be spent on the project. If a contractor balks at this, move on to the next company.
Red Flags To Keep An Eye Out For
There are some things that should make you think twice about hiring a company for your foundation repairs. We're not saying that these are deal-breakers, but you may want to dig deeper if you come across any of these warning signs:
If a contractor asks for the money before the project begins. A deposit may be in order (usually no more than 15%), to show good faith on your part and to begin buying materials, but the final bill shouldn't occur until after the project is completed to everyone's satisfaction.
If the price quoted is much lower than other quotes. There's only so much "wiggle room" when it comes to pricing. If they are cutting corners to give you a deal, where are those cuts being made? Quality products, experienced staff, safety measures? As always, if it's too good to be true, it probably is.
Check reviews online. No one review is going to tell the whole truth, but if you see a pattern of complaints or praises, you can have a better feel for a company.
As stated above, communication is very important. If you are having trouble getting in touch with them to even come out for an inspection, what will it be like in the middle of a project?
Permits? We don't need no stinking permits! If a contractor brushes aside the need for a permit as just one more expense that can be done away with, then you need to do away with them. The permits are there for a reason, and if you don't have a building inspection, you'll never know if the project is safe and the repairs are being performed correctly.
Make sure they are licensed. If they aren't licensed, there is a reason and you need to move on. Also check with Better Business Bureau for problems, litigation, and so on. There won't be trouble, if you don't invite it into your home.
Hire The Best Fit For You
It used to take a lot of phone calls and legwork to check out contractors, but it's easier today through the use of the Internet. Look through the contractor's website to get information. Also, check out sites like Yelp, Home Advisor, Angie's List, and the Better Business Bureau.
Knowledge is the best tool you have, do your homework and arm yourself before you contact the first company for an estimate. Shady companies won't want to deal with an educated consumer, you'll be too hard to push around and deceive.
We hope this will help you be prepared when you have to hire a foundation repair company in the Pennsylvania area.
Winterize Your Home
No matter how much you want to deny it, winter's coming. And along with winter comes big snows, blowing winds and freezing temperatures. There are a whole lot of different steps to take to keep your home safe and comfortable throughout the winter.
You need to have a battle plan and, just like in any war, you need to make sure your first line of defense is shored up. Check your gutters and make sure that they are clear of leaves and other debris. A clear gutter will ensure that you don't experience icicles and ice dams. These can cause water to drain in undesirable locations and damage your foundation. And the best part? Other than your time and effort, this doesn't cost you anything.
Protect Your Pipes
If you have pipes that run through unheated areas of your house, make sure they are wrapped in insulation. A broken water pipe is never fun, but imagine dealing with it in subzero temperatures! If a pipe bursts completely, you will lose a water source, in addition to having a mess to clean up. If a frozen pipe only splits a little, you may not notice it until you have a higher than expected water bill or you begin noticing water damage. Frozen water can cause structural damage if it gets into your foundation or other cracks.
When temperatures drop into the subzeroes, open cabinet doors under the sink and doors to closets that have pipes running through them, especially if they are on an outside wall. This will allow the heat of your home to keep pipes from freezing.
Make sure to check your foundation or any brick and mortar walls for cracks. Seal up cracks to make sure cold air doesn't enter your home. If you have cracks or other damage to your foundation, make sure to have Matthews Wall Anchor come out and check it out. You don't want to have to deal with foundation repairs in the middle of the winter!
Whole House Health
Other good tips to do before the cold temperatures show up include:
Seal off drafty windows and patio doors with plastic sheeting
Replace your furnace filter every three months
Make sure cold air returns and heat vents are not blocked
Open the curtains on your south-facing windows to allow sunshine in
Use your ceiling fans to push hot air downward
Remove window air conditioner units
These are some simple tips that don't cost much and can save you a lot on your energy bills.
Once you have the inside of your home winterized, make sure you have the outside taken care of. Snow removal can be time-consuming and dangerous. Let the snow removal experts at Matthews Structural Solutions take care of clearing your driveway and sidewalks. Give them a call and schedule snow removal service throughout the season.
Matthews Wall Anchor & Waterproofing Service would like to have your business, but we would much rather you have a warm and comfortable house this winter. Call us today to see how we can help you prepare for the winter months.
Common End of Summer Problems with Foundations in Pittsburgh
The weather has been weird this year, but as the summer winds down, you need to keep an eye on the soil around your home's foundation. Drought and dry conditions can cause the soil to shrink and withdraw. As the soil dries out from the hot dry conditions, you may notice some changes in the surrounding earth. Usually, during the summer, there's not only a lack of rain but hot, dry winds. The soil quickly dries out, leaving voids between the dirt and the foundation walls and also between the footings and the earth. Homes in areas that have very wet, then extremely dry conditions are especially susceptible. The constant movement of the soil leaves gaps and pushes the foundation back and forth, weakening the structure.
Dry Earth = No Support
During droughts, your grass, garden, and trees are all fighting for the little bit of water that's in the soil. Between the evaporation that naturally occurs and the roots sucking the water out of the soil, they being leeching the moisture out of the soil from underneath the foundation. You can avoid this by making sure that trees are planted far enough away from your home. A good rule of thumb is to determine how tall the tree will be at maturity and then plant the tree that distance from the home. So, if the tree will be 50 feet tall, then it should be 50 feet away from the house.
Another method is to plant a root barrier. This is placed between the tree and the foundation and is a 3- to 4-inch wide trench about 3 feet wide. Lined with plastic, it will stop feeder roots from moving too close to the foundation.
Your Home Needs Support
The ground around your home is what keeps it all together. This base of soil provides a firm foundation that holds the walls upright. When the weather is hot and dry, the moisture evaporates and the soil condenses. The soil pulls away from the foundation, leaving little or no support and walls that can crack or even collapse. Even a small crack can cause problems. Moisture can enter the crack and expand and contract, weakening the foundation wall until a collapse occurs.
If the foundation under your house cracks or fails, your house can sink, causing catastrophic damage. It is urgent for the safety of your family and your home that you contact Matthews Wall Anchor as soon as you suspect your foundation may be compromised. You will not only save money but your home and the well-being of your loved ones.
Matthews Wall Anchors To The Rescue
If you even suspect that your soil may be pulling away from your foundation or you have other foundation problems, call Matthews Wall Anchor today. Our team of experts can inspect your home for free and determine if your foundation has been weakened due to soil dryness or other factors. We even offer ECP Repair Now financing options for all of your foundation repair needs. We are your number one foundation repair contractor in Pennslyvania, Ohio, and the surrounding area.